So the other night – I watched the VMA's while home alone.
I sat on my laptop and tweeted every 10 seconds about what was going on with the 2009 Video Music Awards. I feel like I watched the VMA's with twitter! Technology can be so creepy and awesome at the same time.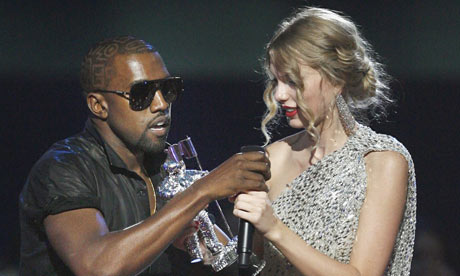 Anyways- after Kanye's incident with Taylor Swift…
(****for those of you who don't know what happened- this little country ish pop star named Taylor Swift won the award for best Female Video… and during her acceptance speech Kanye came on stage, interrupted her, and grabbed the mic and yelled about how Beyonce had the best video all year and should have won it. In his defense, Beyonce really should have won that award but going on stage and announcing that while she spoke was just ridiculous) – – it was like twitter blew up. Everyone in the world was tweeting about it- and I was like… I MUST SAY SOMETHING WITTY! WHAT DO I SAY…. and then… I said:
"I think Taylor Swift would look pretty hot with a black dick in her and now it will never happen. Damn you Kanye. "
And everyone LMFAO'd at me and re-tweeted it and I truly felt like a hero.
In all seriousness- wouldn't she look good with a black dick in her?

For those of you who care about what I thought – the Michael Jackson tribute was awesome.
I always loved Janet Jackson. I saw her in concert when I was in 7th grade- and when I was like, 11, I was really good at doing the whole "5, 4, 3, 2, 1" thingy she does at the beginning of the Rhythm Nation video. I really should have made a career out of that!
Beyonce was really sexy
I love that single ladies dance. I tried to do it along with her with the TV on but I didn't have much luck. Me and her were in a dance off- and she totally won.
Pink was incredibly lame.
I think she tried to compensate for having a crappy song by swinging on a trapeze while singing. I like a lot of pop songs- I won't lie. I think it is OK. It is totally acceptable to have Black Flag, and random Lady GaGa songs in your iPod. I would call them guilty pleasures but, I don't feel any guilt about this- and I'm Jewish- and I feel guilty about everything. "So What" happens to be one of the pop songs I like- I turn it up when I drive and sing along to it… and I strip to it sometimes when I feature dance and it makes me feel slightly empowered- especially after a few bottles of vodka. I don't know what this new single is of hers- but it fucking sucked.
Oh- and Lady GaGa wore some incredibly silly outfits.
Honestly, I give her props for it- but it still made me laugh.
And that's that!
xoxo
Joanna Angel